Karina Gill styles herself as a contemporary silversmith.  I met her at the Sevenoaks Craft & Design show last month and was blown away by the beauty of her silver bowls.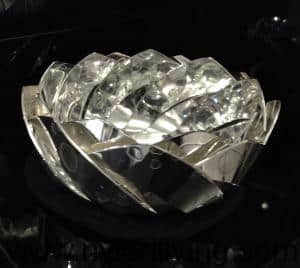 Karina emphasises the fluidity and the geometry of the bowls.  Clearly created as pieces of art, functionality takes a back seat to the sculptural aspects of the bowl.  My favourite is this etched bowl in a satin finish called marble cone.  I think both the lines of the piece and the etching on the silver are easier to see because the satin finish does not have the shine of the other pieces.
Amazing one single sheet of silver is used to create a bowl with no wastage.  Each repetitive element adds to the cohesiveness of the whole work.  They remind me of the Japanese art of origami with their intricate folds.
Ever practical I did ask her about the cleaning of the bowls.  Apparently the silver will tarnish but they are easily kept pristine with the use of a sliver-cleaning sponge which can get into the nooks and crannies of the etching and the individual pieces.
You can purchase a Karina Gill bowl through her website. She works in all finishes of silver from the gleam of a polished finish, the subtlety of a satin finish and the drama of an oxidised black finish.  The silver bowls are not inexpensive starting at £995.  Some of her designs are available for immediate purchase but the majority are through commission. I couldn't justify an impulse buy of a bowl but I did purchase some of her earrings.  I'm thinking one of the bowls will have to go on my Christmas list!