Mauve is a pale purple color that is often associated with a feeling of romance or sentimentality. Conveying a very similar mood to the color dusty rose, this color from the purple family can really convey different  emotions depending on the mauve color combinations. For example, mauve and green conveys the energy of spring while mauve and grey is a more subtle, formal look. If you're looking for good color combinations with mauve, here's a selection of ten color possibilities that really help this beautiful light purple stand out.
What is the Color Mauve?
The name mauve comes from the French word for the mallow flower.
The color mauve became very popular in the late 19th century because it was the first mass-produced synthetic color dye. The inventor, William Perkins, discovered how to make mauve accidentally while trying to find a cure for malaria.
In the 189o's, this particular color was the height of fashion. Purple, that favorite color of royalty, was suddenly available to everyone. Thanks to the bright purple synthetic dye, the royal color was everywhere.
And, mauve also had a resurgence in the late 1970's and 1980's with its moodiness suiting the New Romantics.  Remember the iconic mauve and purple Rio album cover from Duran Duran?
Then mauve got named a Pantone Color of the Year in 2020 and has become one of the popular colors again.
Mauve Color Meaning
Mauve is associated with spring and youth and femininity in a more subtle manner than pink. Thanks to its underlying grey tint, mauve is girly but not saccharine sweet. Mauve can also act as a neutral when paired with bright colors.
Add a touch of whimsy with a mauve color palette while still looking grounded and modern.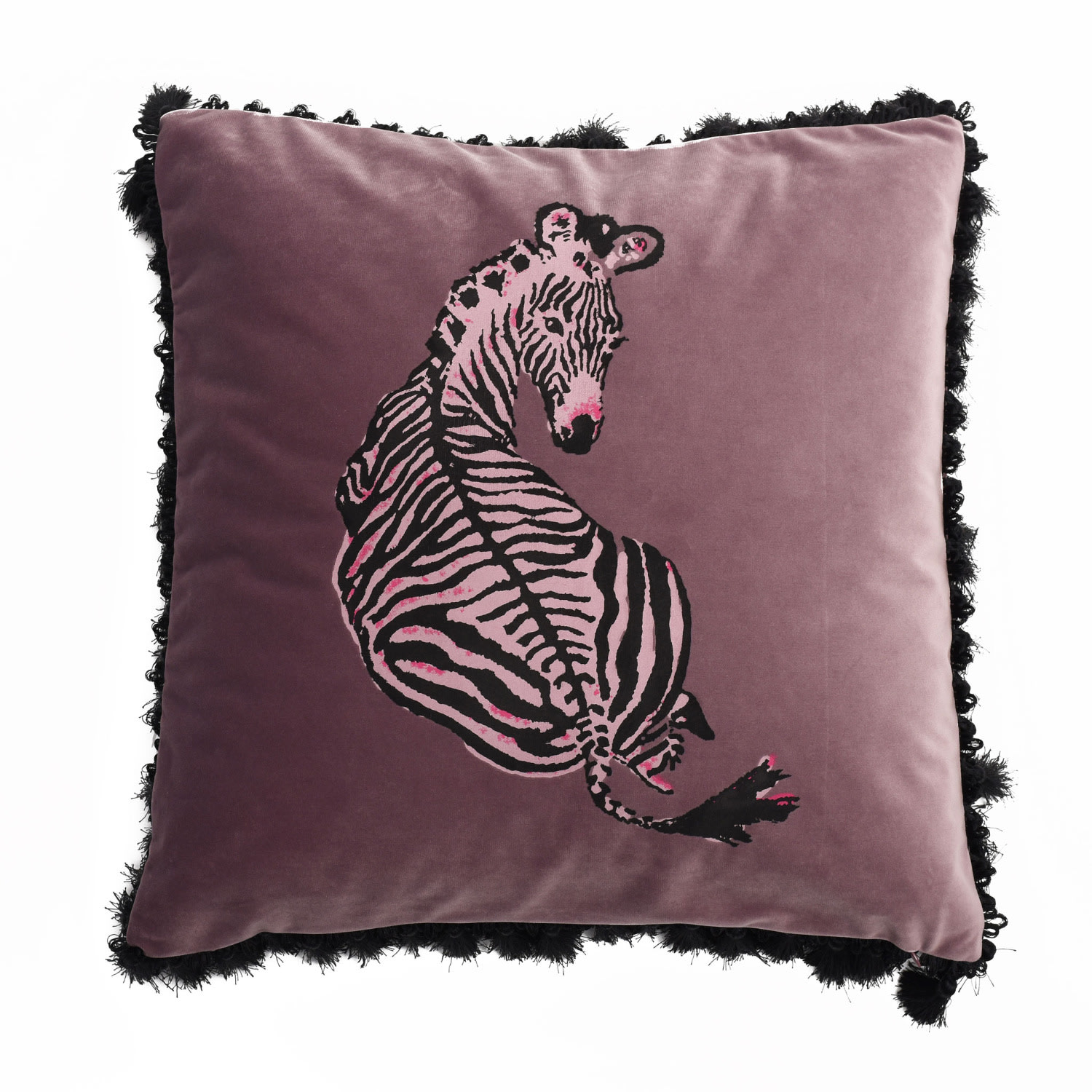 Zebrano Mauve Velvet Cushion from Badger & Wolf
Uses for the Mauve Color Family
Needless to say, this romantic color is popular in the fashion world such as for bridesmaids' dresses at weddings. Jay-Z made the news when he corrected someone calling his mauve suit pink.
"IT'S MAUVE"- JAY-Z || #RocNationBrunch 📹Instagram/2cool2bl0g pic.twitter.com/LTVvk2jEKR

— BET Music (@BETMusic) January 26, 2020
Mauve is also popular in interior design from living room accessories to paint colors. Check out mauve paint colors like Studio Mauve, Beguiling Mauve, Chaise Mauve or Deepest Mauve by Sherwin Williams.
For other paint companies, check out Mauve II from Little Greene Paint & Paper Co, Brassica from Farrow & Ball, Mauve Roses or New Mauve from Designers Guild.
If you aren't ready for mauve walls, you can just do an accent color. For example, in our own home we have used Farrow & Ball Brassica inside a bookcase for a pop of color and Farrow & Ball Off Black for the rest of the bookcase.
What Colors Make Mauve?
Mauve is part of the purple family, leaning towards blue. To achieve mauve, you mix blue with a little red, then add white until the desired shade is reached.
Thanks to its use of both blue and red, mauve plays well with both warm and cool colors. It's typically considered a cool color, although certain color pairings can bring out the warm side of mauve.
The Mauve Color Palette
Mauve is one of the more neutral shades of purple. The purple family has many popular and well-known colors as shown below.
Mauve Color Code
The Hex mauve color code is #E0B0FF. Mauve, a shade of light purple is closely related to the colors lavender and violet. Other popular options for mauve are Opera Mauve (hex code #b784a7) and Mauve Pink (hex code #C77398).
Mauve Color Family
Monochromatic colors are different shades of the same color ranging from darker to lighter shades. You get shades of mauve by adding black to a color. A monochromatic color scheme for mauve can get as dark as deep purple and violet as shown below.
Mauve Color Combinations
Other useful elements of color theory that you can try include analogous colors, complementary colors, split complementary colors and triad colors.
Analogous colors are near other on the color wheel and provide a visually soothing color scheme.
Complementary colors go together because they are on the opposite each other on the color wheel. A complementary color scheme has a high contrast and catches a viewer's attention. The complementary color for mauve is a yellow-green like sage or a green-blue like sea green.
Split complementary colors are the two colors on the opposite side of the complementary color (i.e., the one right across from mauve on the color wheel).  The split complementary colors for mauve are  yellow and mint green. The use of contrasting colors makes a mauve color palette pop.
A triadic palette are three colors evenly spaced out on the color scheme. In the case of mauve, a triadic palette is created with a pale peach and a mint green with the pale purple hue that is mauve.
You get  tints of mauve by adding white to the color and tones of mauve by adding grey to the color. Purple hues can create shades of mauve from light mauve, to dusty mauve or deep mauve.
What Colors Go With Mauve?
Mauve is one of the best colors in terms of versatility and the different ways you can use it. This pale purple color can work with a range of colors to create an elegant look.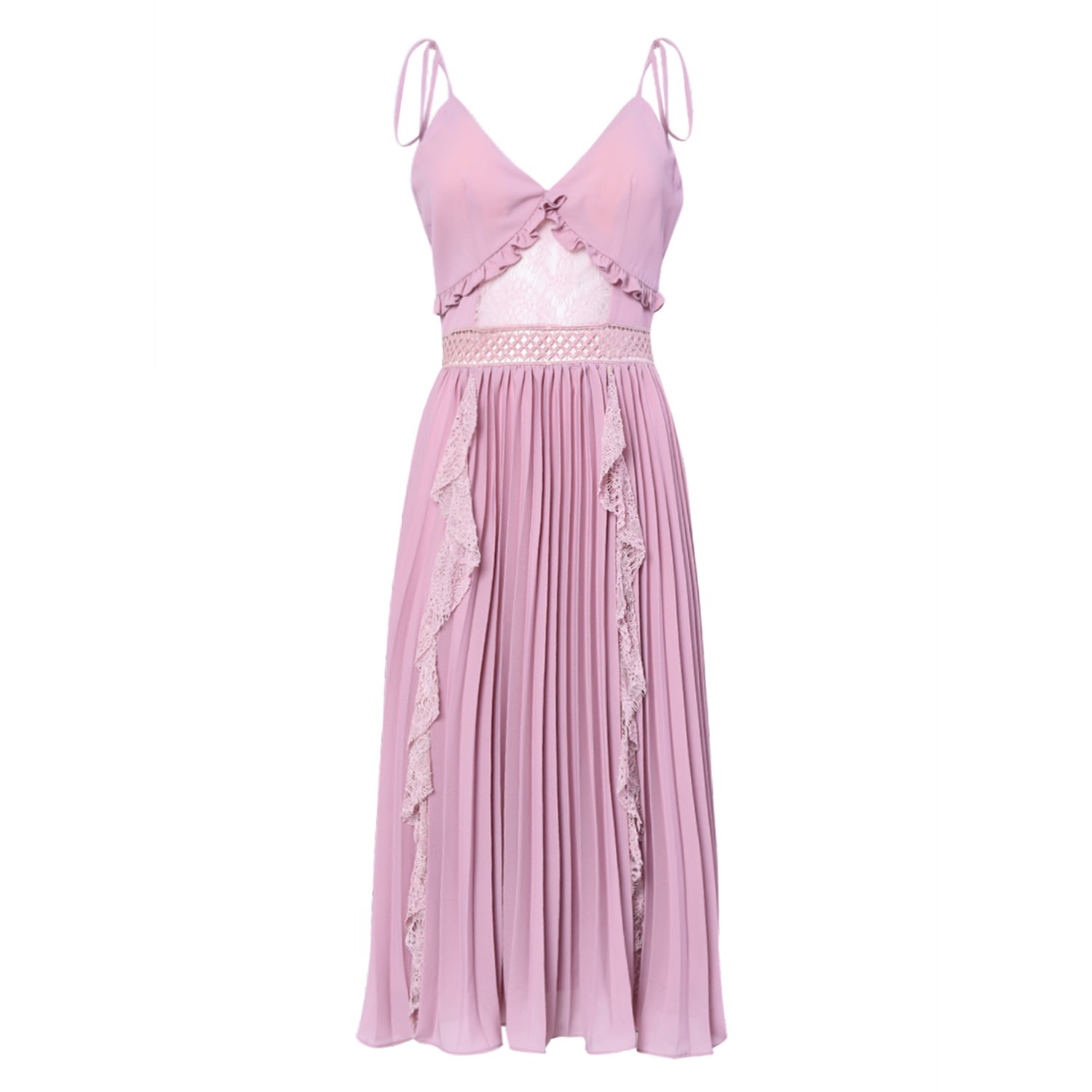 True Decadence Pink Mauve Cami Pleated Low Back Midi Dress from Wolf and Badger
Adding this beautiful color shade of purple can enhance a sunset glow or bring out the color of a spring flower bouquet. From the underglow on clouds at sunrise to seasonal fruits to tropical birds, mauve is more versatile and common than most people assume!
When trying to find colors that complement mauve, you can think about what colors go with light purple. Since mauve and light purple are very close, they have similar color matching schemes.
Mauve and Gold
To achieve a truly royal appearance, mauve and gold are a perfect match. It's sort of like the top tier of mauve and yellow, which is another great combination.
The slightly dusky tone of mauve with the brilliance of richer colors like tawny gold brings out the best of both colors. If gold is too much shine for you, consider mauve and mustard yellow.
Mauve and Silver
Continuing on the theme of royalty, silver and mauve are another superb color pairing. Just as with gold, you'll want to be careful not to use too much silver.
When combined in the right amounts, silver can really make mauve shine. For a subtle touch, consider just silver jewellery.
Mauve and Yellow
The combination of yellow and mauve is a highlight of the complementary colors for mauve. When looking at a color wheel, you'll see that mauve and yellow are opposite each other, making them complementary hues.
A mauve and yellow color scheme usually helps bring out a floral or spring-like energy. Both colors are bright enough to have a lot of character, but can be made soft enough not to be overwhelming. If mauve and yellow are too vibrant for you, consider yellow accents which will add a small but significant pop of color.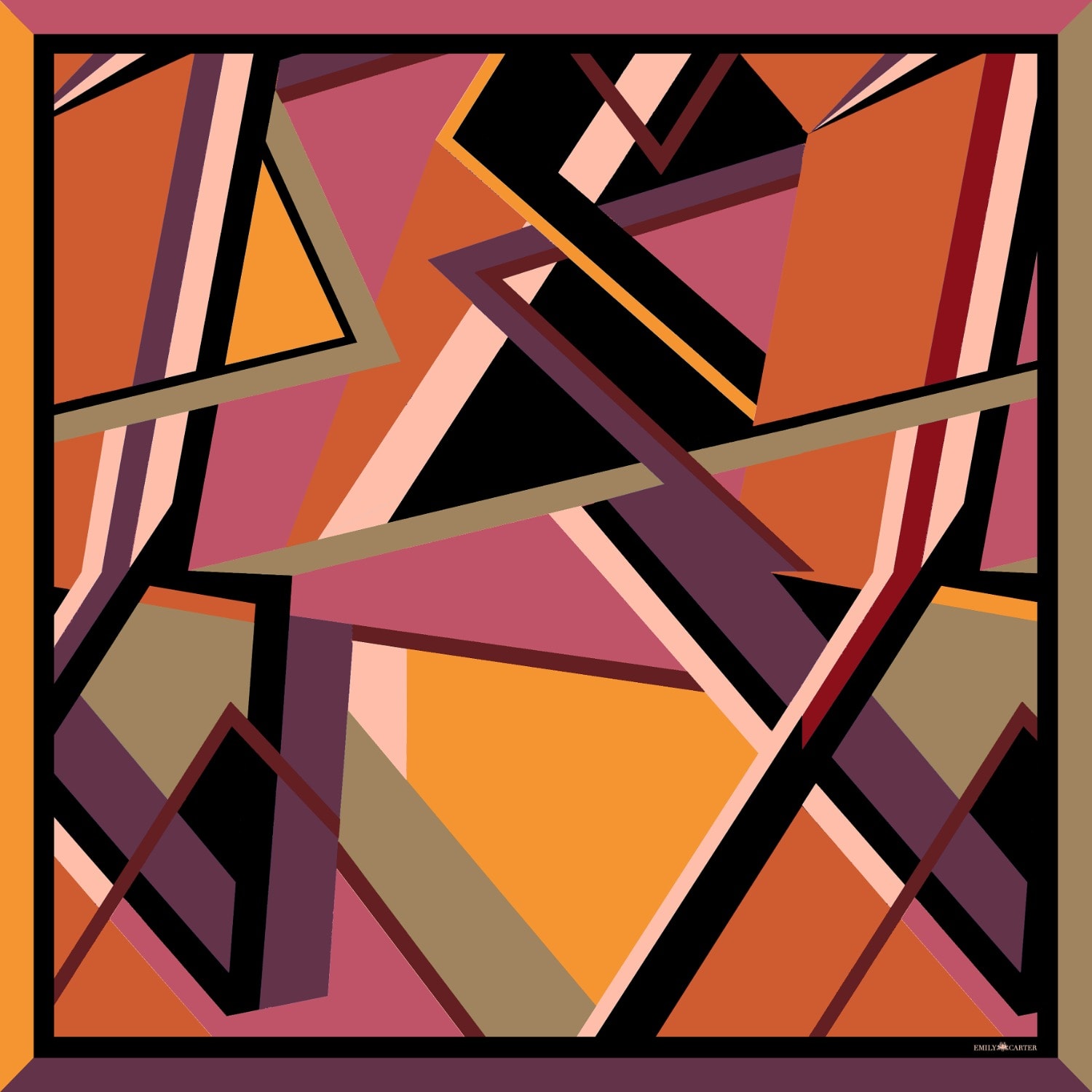 Emily Carter – The Abstract Scarf Mauve from Wolf and Badger
Mauve and Pink
Mauve and pink work beautifully together to create a cohesive look. After all, little girls generally move from a love of all things pink to all things purple.
Although not strictly analogous, mauve has enough grey in it that it acts as a neutral for the pink making it one of the favourite wedding color combinations. Maybe consider pink jewelery like rose gold?
Mauve and Purple
Next to each other on the color wheel, purple is like a close cousin to mauve and a version of violet.
When trying to find a good color match for mauve, play around with other shades of purple including dark purple. Lighter purples will make mauve stand out more boldly, while deeper and richer purples will be complemented by mauve's softer tone.
Mauve and Green
Like mauve and yellow, another color opposites match, mauve and green in a lighter shade evokes a springtime color combination.
A darker green like forest green makes the cut for other times of the year. For example, mauve and forest green add a woodland feel that can carry you into a fall and winter wedding.
Or, try a complementary color scheme for mauve like a yellow-green found in natural green shades.  For example,  mauve and sage or mauve and olive green make a great mauve color combination.
If you really want to make the green pop, pair mauve and mint green or try mauve and lime green. This bold color scheme is a great way to make a statement and adds lots of character.
Mauve and Blue
Working off the mauve and green energy, consider mauve with a blue-green like dark teal for a sophisticated look. Teal and purple always looks good so why not mauve and teal?
If you want to achieve a softer and more neutral energy, mauve and blue is a great color match.
Mauve and navy blue work especially well together and look sophisticated. The darker the blue, the more the mauve will stand out against it, or you can make it a more subtle pairing by having the blue and mauve closer in tone.
Mauve and Burgundy
Burgundy is created by mixing red with a small amount of green and blue. The resulting deep, rich tone pairs perfectly with mauve, especially if you're after a sunset sort of color scheme. To really accent the burgundy and mauve, you can play around with adding other lighter tones, like yellow or pink.
Mauve and Grey
Grey is always a great neutral fall-back and goes well with almost every color. Mauve and grey are no exception to the rule. This pairing is a good choice when you want something a little more neutral and less flashy than some of the other color matches on this list.
Mauve and Black
And last but not least, black – the color that goes with everything. Mauve and black is an excellent formal color match; it's good by itself, or you can pair mauve and black with one of the other colors on this list for more of a contrast.
Like the look of mauve color combinations? Spread the Word! Pin this to your Pinterest Boards for future reference!
We did not receive compensation of any form, monetary or otherwise, from any of the products, services, hotels. etc mentioned in this article.
This site generates income via partnerships with carefully-curated travel and lifestyle brands and/or purchases made through links to them.