Decorative wreaths are so welcoming! I love well-proportioned front door wreaths because they are like the amuse buche to the decorative meal that is waiting inside the house for me! If your general style is more modern, then you will want a modern wreath  Here are 5 styles of modern door wreath that will glam up your home. Some of the decorative door wreaths are all-natural, others have had their natural beauty amped and others are unabashedly artificial wreaths.
Twig Wreath
A twig wreath like you've never seen before – sparkly and covered in silver glitter!
 Or maybe you would like a warmer gold wreath? Somewhere under all that gold sparkle is a twig wreath.
Silver Wreath
A sophisticated glittery silver wreath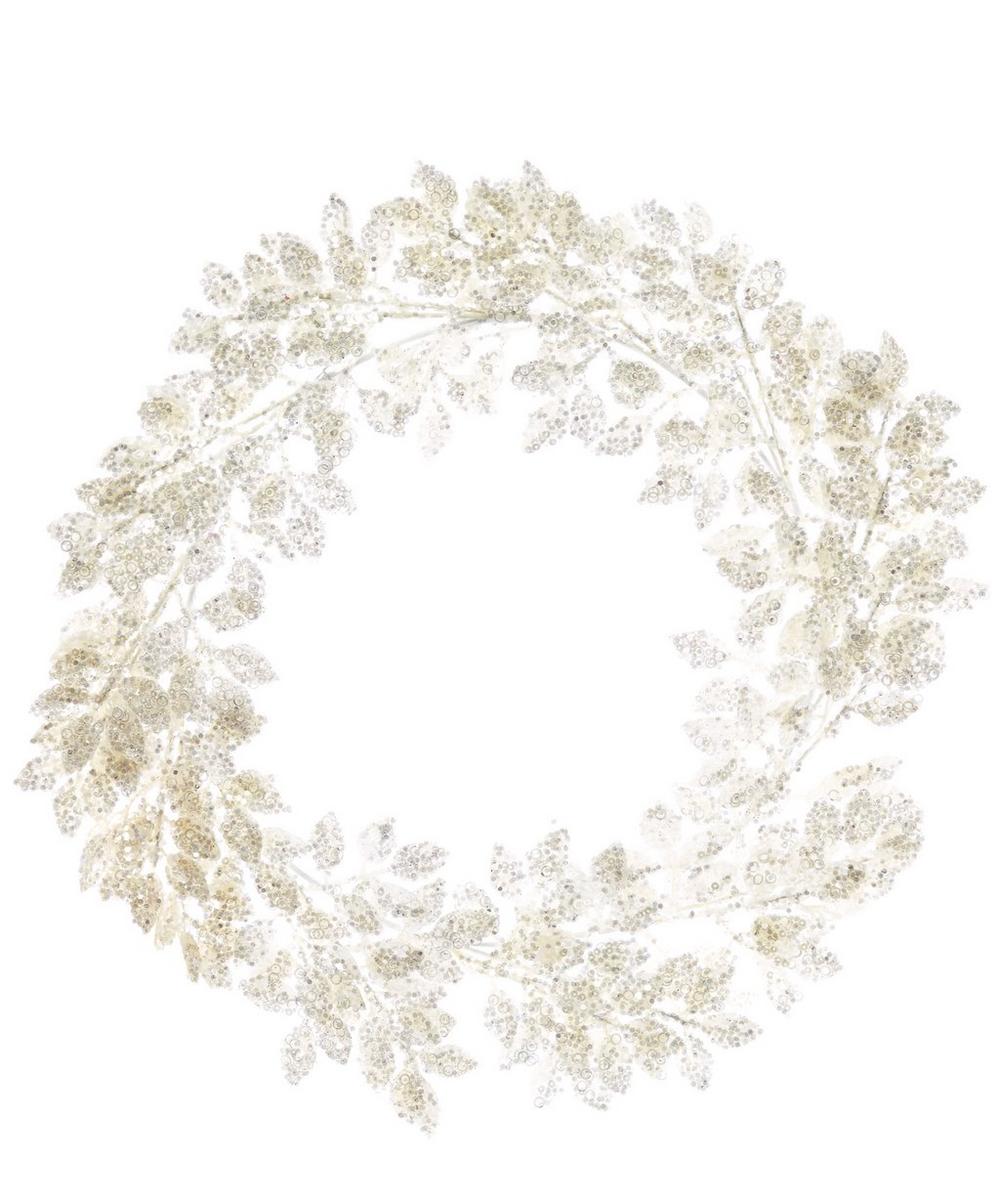 If you prefer your silver to have less sparkle and more character, check out this galvanised metal silver wreath.I say if you are going to have artificial Christmas wreaths, go all out!
Gold Wreath
Another fabulous sparkly gold wreath – this time oak leaves are under all that glitter.
Berry Wreath
The simplicity of a red berry wreath – perhaps if you are going for cool Scandinavian Christmas decor or a modern country look.  Berry Christmas wreaths are extremely popular as an alternative to evergreen leaf wreaths. As show below, berry Christmas wreaths come in many colors!
Bauble Wreath
Here's a pretty glass bauble wreath in pink and gold.  I would think this would look great against a black or white door, don't you?
I love this recycled Fair Trade Sari fabric wreath.  It's technically not Christmas ornaments but the cloth balls are round – does that count as a bauble wreath?
And as long as we are throwing in round balls into the modern wreath mix, how about this pom pom wreath from Anthropologie?
More Decorative Front Door Wreaths
Whether or not you want your artificial Christmas wreaths to look natural, there is a huge choice of decorative front door wreaths in all sizes, colors and price points.
A bauble wreath in traditional Christmas colors;  artificial red berry wreath; a sparser red berry wreath; a white berry wreath on a twig base; this large twig wreath works all year round for a front door; a white berry and twig wreath; a gold wreath that is also a berry wreath and a battery operated lighted silver twig wreath.
I hope you've enjoyed this round up of the coolest decorative wreaths for this holiday season. As you can see, a modern wreath doesn't need to be boring (or even green!).
SPREAD THE WORD! PIN THIS TO YOUR PINTEREST BOARDS FOR FUTURE REFERENCE!
This site generates income via partnerships with carefully-curated travel and lifestyle brands and/or purchases made through links to them.