As an obsessive plant mama and fan of wallpaper, the natural progression would be to combine these two trends in a nature-oriented wall mural. Forest and woodland wall murals come in many different designs and are suitable for for different types of rooms both for adults and kids. Forest wall murals ranging from realistic to fantasy can create a stunning feature wall for your home.
Forest Mural vs Vertical Wall Garden
It's another way to take your love of biophilia to a wall – in forest mural wallpaper instead of a vertical wall garden.
Forest and woodland wall murals are a quick solution to boring white walls and perfect choices to bringing the natural beauty of the outdoors inside your home. Plus forest wallpaper murals don't require the maintenance of a vertical wall garden! And, landscape murals are super easy to put up if you pick peel and stick wallpaper.
Forest Mural Wallpaper vs. Forest Wall Mural
The Dorothy Draper Brazilliance wallpaper at the Greenbrier Hotel or Martinique wallpaper found at the Beverly Hills Hotel are examples of botanic wallpaper that is design-oriented and dramatic. 
Another famous and popular woodlands wallpaper is Cole & Son Woods wallpaper of birch trees.
Without creating the maximalist look of forest wallpaper, a self-contained scene of forest mural wallpaper can amp up a feature wall.
Think of a wall mural as an oversized piece of art that adds depth and drama to your room!
Forest Wall Mural vs Floral Wall Mural
There are so many options for a forest wall mural or a floral wall mural. Dare I say a floral wall mural can verge on the twee especially if the floral print is too small?
Emphasise your a cottage core aesthetic with a dramatic large flowers on a floral wall mural.
Forest Wall Mural Rooms With A View
Heard of forest bathing? It's a traditional Japanese method for relaxation where you destress among the beauty of trees. Harvard researchers have shown that time spent in a forest has proven health benefits. This positive effect was even seen when people couldn't get outdoors but were confined to hospital rooms with a view of nature.
Recreate that feeling of wonder and contentment when you hike the Appalachian-Blue Ridge forests of the East Coast USA or Muir Woods in California in your own home with forest wall murals.
If you love the idea of nature in your home, but have reached your limit of plants (is there such a thing??), add a calming element to your home with a forest mural wallpaper.
Can't get out to a forest very often? DIY your own forest bathing option in your home with a forest wall mural. It's a simple and effective way of remembering that nature has a way of grounding us.
Options for a Forest Wall Mural
Woodland and forest wall murals an excellent choice for any living space. Make a bedroom, dining room or living room your own personal space.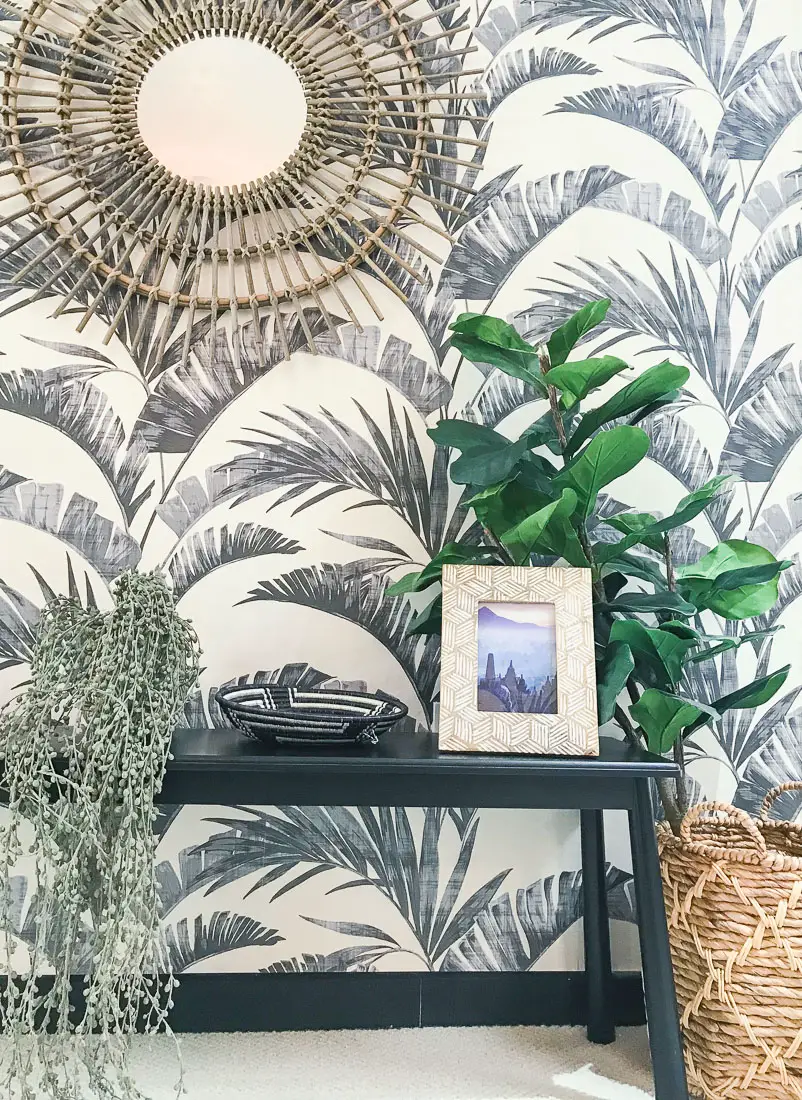 Pick tree wallpaper murals of high quality to maintain a luxe look. A cheap option can fade with light or have uneven color printing which will carry over onto the rest of the room.
Recreate the romance of a treehouse lodge with a misty forest wall mural for the sanctuary that is an adult bedroom.  
An enchanted forest wall mural for a kids' bedroom will let their imagination soar and create a fairytale atmosphere. A picturesque landscape will enable kids to soar into a world of their own creation. Beautiful forest wallpapers can even come with animals incorporated into the mural.
Travel lovers will love a rainforest mural or a tropical forest murals that create a sense of place. Wall-size murals after all are more evocative than mere art prints.
Depending on the pattern, the look of forest wall murals can range from the whimsical to the dramatic. Forest wallpaper murals also come in a wide range of trees such as pine trees or palm trees.
Lush forests set different moods as well by conveying completely different feelings as well. There really is a world of difference between the deep pine forest of New England and the bamboo forests of China, India or Brazil. Do you envision your room as located in dramatic tropical jungles or on a tropical island?
Don't have a green color scheme? Fear not, there's so many colorways that work such as in this bedroom with a periwinkle color scheme.
Prefer a monochromatic color scheme? The calm of a winter white forest or the mystery of dark forests are perfect for a moody monochromatic room.
Like the look of forest wall murals? Spread the Word! Pin this to your Pinterest Boards for future reference!
This site generates income via partnerships with carefully-curated travel and lifestyle brands and/or purchases made through links to them.