I love the Yanagi butterfly stool which is considered a design classic.  Created by Japanese designer Sori Yanagi in 1954, the stool's seat seems to flutter like a butterfly's wings.
The two identical L-shaped sides of the stool are screwed together in the middle using brass hardware.  The resulting shape is reminiscent of the red torii gates that stand in front of Shinto shrines in Japan.
Sideways, the shape could also be taken for a whale's tail as it dives into the ocean.
The material for the stool uses shaped plywood, a technique made famous by American designers, Ray and Charles Eames.
Interestingly, Japanese culture doesn't have a history of creating chairs.  Most Japanese people even today sit on tatami mats on the floor.  Although originally produced and distributed only in Japan, these stools are now licensed and distributed by Vitra to retailers worldwide.
The butterfly stool is an iconic piece of 20th century furniture which has taken its place in many museums, including the furniture collection of the Museum of Modern Art in New York.
The stool's minimalist sculptural look fits well in many different types of rooms and styles.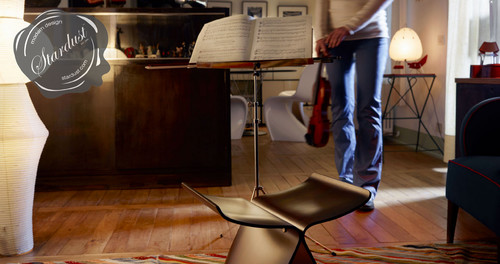 Like the look of  the Yanagi butterfly stool? Spread the Word! Pin this to your Pinterest Boards for future reference!
This site generates income via partnerships with carefully-curated travel and lifestyle brands and/or purchases made through links to them.